---
Zakrslý králík
k
*
Čím se krmí zakrslí králíci
Hlavní složkou králičí potravy by mělo být seno. Sena existují 2 druhy: zelené a slámově žluté, které sice není tak voňavé a chutné, je ale pro králíčka důležité, protože obsahuje vitamín D (je sušeno na slunci). Z vlastní zkušenosti vím, že králík jím nepohrdne. K senu by měl králík také dostávat směs obilovin, to znamená ovesné a pšeničné vločky, ječmen, pšenici, lisovanou vojtěšku a kukuřičný šrot. Tuto potravu bychom ale měli podávat v omezené míře. Příliš obilí totiž způsobuje zažívací potíže a je příliš vydatné. Ve větší míře suchého krmiva má také králí tendenci k tloustnutí. Každy den by nemělo králíkovi chybět šťavnaté krmení (tráva, listy pampelišek, mrkev, celer, petržel, okurka, jablko apod.), opět bychom to ale něměli přehánět. Králík musí mít neustále k dispozici misku s vodou, která byse měla měnit co nejčastěji. Vhdoná je napáječka, které nehrozí znečištění a navíc ji králík nemůže převrhnout.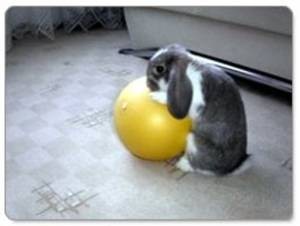 *
Kontakt s králíčkem
Králík potřebuje hlazení. Aby si zvykl na vaši přítomnost, potřebuje slyšet příjemnou intonaci hlasu a cítit dotek dlaně. Nekříčte proto na králíka moc, když se něčím prohřeší, stačí jen mírně zvýšit hlas. Králík příliš nemiluje hlučné prostředí, má rád klid. Střízlivě laděné rádio nebo teleivize by mu však neměli vadit. Králíky s delší srstí je třeba kartáčovat, protože během roka několikrát línají. Lízáním srsti si králík od přebytečné srsti také sám pomáhá,ale přemíra chlupů mu může způsobit zažívací potíže.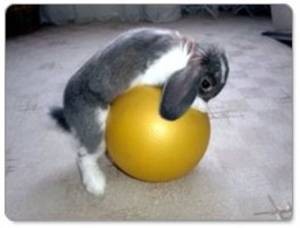 *
Pohyb a hra
Králík potřebuje svoje zázemí v podobě králíkárny, ale potřebuje také dostatek volného pohybu. Pokud necháte králíka pravidelně volně proběhnout po pokoji, dáte mu možnost většího rozhledu a intenzivnějšího vnímání. Králíci si také umí hrát. Králičí hračkou může být míček (viz obrázky) nebo různé předměty z lufy (váleček, míček...), které může králík kousat, aniž by mu to ublížilo. Většinou si ´vystačí se šťoucháním do záclony nebo kousáním/trháním papírových krabic, pokud se vyskytnou v jeho dohledu. Je třeba dávat pozor, aby ho nenapadlo hryzat kabely - to by totiž mohlo být to poslední, co by udělal. Jako králíkárny jsou vhodné nejrůznější druhy klecí, které zajistí králíčkovi dostatek volného vzduchu.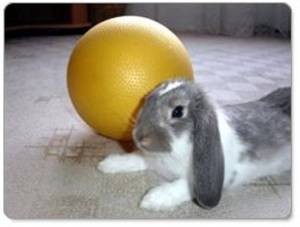 http://www.marulky.estranky.cz